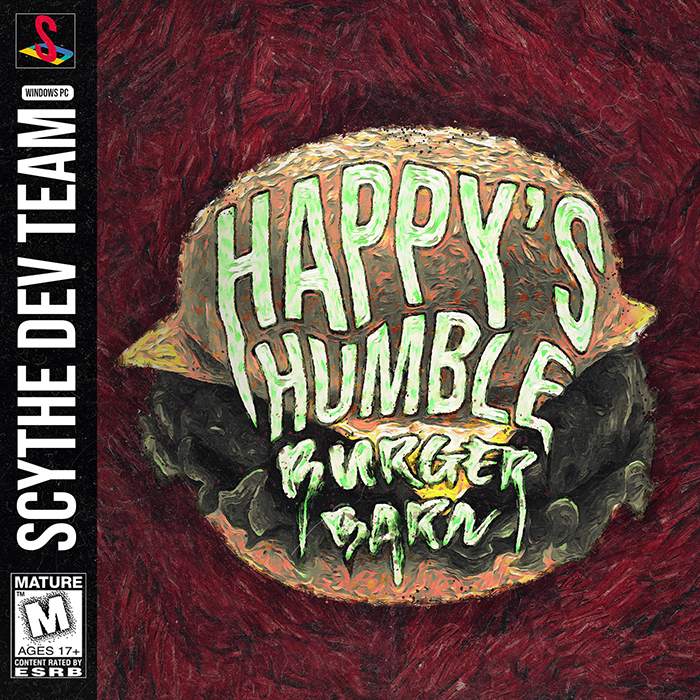 Happy's Humble Burger Barn
Endless Mode! | Drive Thru? | + Patch
---
To the current Management at Happy's Humble Burger Barn:
We'd like to thank you for choosing to continue working for our wonderful franchise. Over the last month we've received such an influx of customers that we've had no choice but to open our drive-thru back up! People simply can't get enough of our delicious Happy's Deluxe Burgers!

We've also given our employees the option of working INFINITE OVERTIME. That's right, through some clever persuasion to our local politicians, we've been granted the immunity from labor laws! If you are seeking extra overtime, please email corporate, we will extend this offer on to you and you can work for us forever!
New Features:
- New Endless Mode - Play through the game once (or press F12 during the burger sequence) to find yourself in the new Endless Mode! Customers will never stop coming. So you can fulfill your weird burger fantasy forever and ever and ever and ever. and ever.
- Drive-Thru is open for business! - During the Endless Mode, you'll find a new set of customers wanting fast food faster, they'll come by in their extremely varied vehicles and order food! Just don't give them the wrong thing, we're not a charity.

Fixes:
- Minor performance increases
- Fixed some cassette issues
- Fixed 'Ratbert' from causing the game to crash sometimes
- Added some new lore stuff
- Replaced the warning siren (oops)
From the Devs:
We really appreciate all the love and support from everyone who's played and enjoyed streams of our game. It means the world to us, as we always say, and is the primary reason we continue to make these games. We've been asked quite a bit what's coming next from us, what we're planning on, and if this game warrants a sequel.

What do YOU GUYS want? We want to hear from you guys. Let us know what you loved and hated, let us know what you thought of the story, game-play, mechanics, all of it! It helps us get better and deliver the games you want to play.

Much Love,
Scythe Dev Team

P.S.
Did we mention we made shirts? Check it out!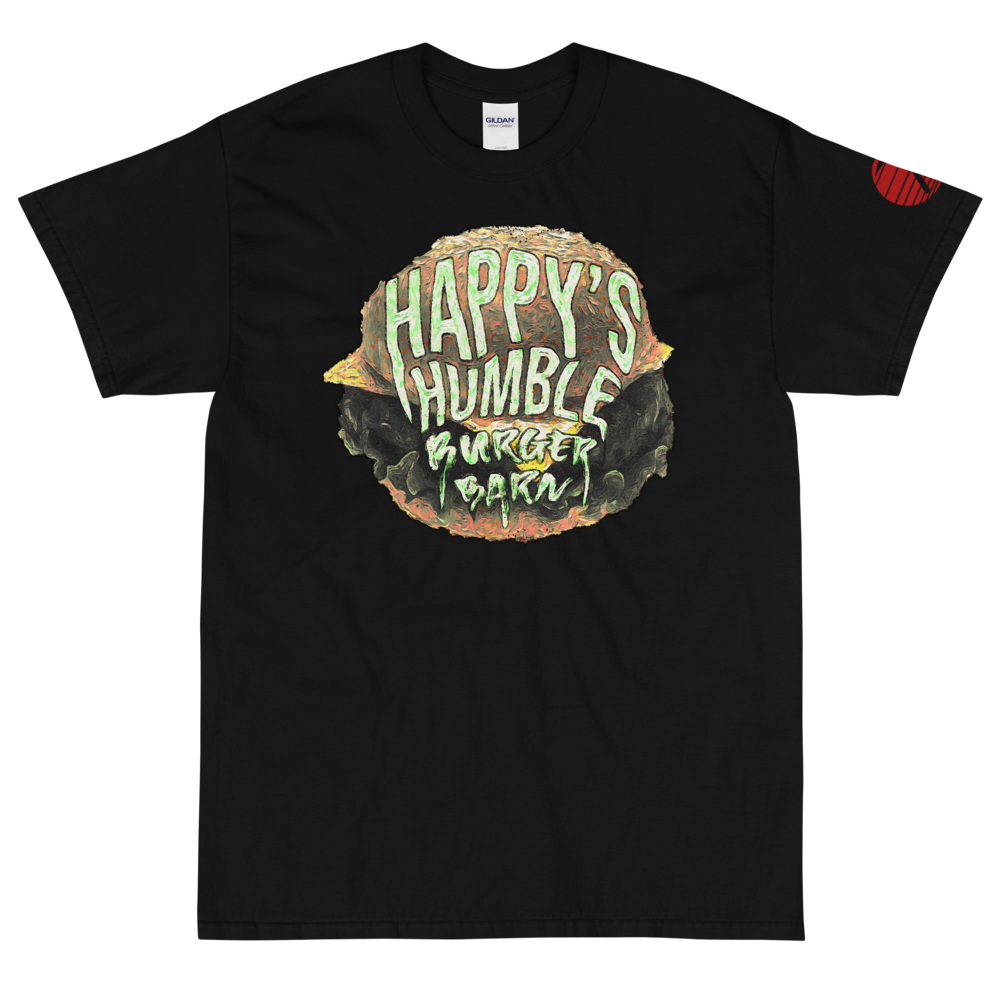 Get Happy's Humble Burger Barn
Comments
Log in with itch.io to leave a comment.
what is the burger sequence???
The music is what really got my interest when i heard it from a streamer playing the game so i had to donate and download it for myself, I loved [Landing gear]. The Lore was very fun to find too but i can't help but feel there should have been more. I hope to see more of this story [And the Happy Humble Heifer] in the future please keep up the great work Scythe Dev Team! And have a Happy Humble Day :)

P.S (I also realize now, how much this reminded me of "The Forests" End game area Sahara.)

I absolutely LOVED this game. It was terrifying. It was unique. It was so much fun!
Thanks so much LumpyJB! We appreciate you checking out Happy's Humble Burger Barn and are glad to hear you enjoyed it
That was an insane experience! I made a video but I'm not gonna link it because im not a dumb advertiser
SourdoughGames, thanks for checking out HHBB! Glad to hear you enjoyed. It's totally fine if you share the video, we try to watch as many as we can. But even if you don't...well find you anyway. (Try to do daily YouTube searches to include y'all on the official LP playlist.)
Cheers,
Scythe Dev Team
It'll be a while since I need to edit but I might get back to you. Literally played it 10 minutes ago
You're gonna hate me after watching this for 10 seconds but
hey Scythe i have your game for loong time , and it's lagging more often than before, and thanks for making endless mode anyway :) it's better ... and have a nice day
best regards - twodeeh
Would there be anyway for you to make a low graphic mode? I really want to play this game but I can not run it sadly. I know it's a lot to ask but it would be awesome to the people who have toasters as computers.
Unfortunately our games are built for modern, Non-Integrated GPU's to take full advantage of high fidelity graphics and instancing. By making a low graphics mode we'd effectively have to remove a lot of stuff from the games. This would take considerable amounts of time and take us away from developing new titles.
Cheers,
Scythe Dev Team
(avoiding too much in the way of spoilers): I would love to see a closer look at some of the non-conventional "other" services we see alluded to in the final flyers and pamphlets towards the end of the game. Some of those jobs, maybe set at different points in the timeline of the setting, would be engaging experiences to check out.
Ariamaki, thanks for the feedback! For about 5 minutes we threw out the idea of making some more scenarios before we launched but decided to save it for future potential titles. It is definitely something being considered!
Cheers,
Scythe Dev Team